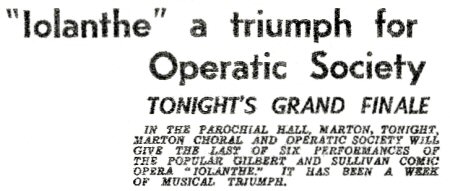 I found a great deal to admire in their performance, writes "Musica", and the professional touch of Sidney King, the producer, was always apparent.
The musical direction of Leslie Whitaker, too was outstanding, but the work of the orchestra (led by Mrs. Woof Gaggs) was at times unequal.
A chorus which achieved a real balance and some expressive work, evidently revelled in the score and gave us some delightful moments.
There were some sparkling characterisations in a well-chosen cast, whose diction, generally, was a feature.
William Moister was a genial Chancellor - he extracted all the humour of his part without exaggeration.
Arthur O.C. Sharp employed one of the best voices in the cast as Mountararat. His song "When Britain really Ruled the Waves" was notable in its way, and William Tillotson also displayed complete understanding as Tolloller. Their trio, when supported by the Chancellor, had great point.
The Stephon of Kenneth Nicholls was another fine portrayal, and Eric W. Potterton, as Pte. Willis, was well in character.
Peggy Cardwell was a popular Fairy Queen in the tradition of D'Oyly Carte. The gay fairy song was well sung.
Artistry and impeccable diction gave point to Mona Etherington's Iolanthe, and the fairy aunts - Joan Wilkin, Jean Wade and Isabel Nicholls - gave good support.
Gladys Metcalfe, as Phyllis, was another admirable conception.
Large audiences have appreciated the fact that there was never a dull moment.
Mrs D. Dickenson does good work at the piano, and the secretarial duties were in the capable of hands of Miss K.C. Parker, of Thornton.